When I think back to Brooke & Rob's wedding day it was filled with warmth. The warm sun shone beautifully on their outdoor ceremony, the seats filling with hundreds of friends and family members who came to show their love and support. I think of God, and the way he orchestrates our lives, and brings two people together for marriage; and the warmth of his love for us. I think of all of the warmth between their family members, the hugs, the tears, and their silent supportive presence. This was a couple and two families who were not afraid to love and show emotion for each other; to let themselves feel all of range of emotions a wedding brings. To think of the love they showed for each other that day just fills my heart with that little warm feeling, it almost makes it feel like it's going to burst inside. But really, it's just all that love that feels warm and inviting.


When we arrived after our little drive to Rockford (which I learned if you forget your wallet at home and have no way to pay the tolls you can just drive-on through and pay online later... and now I am contemplating never stopping again...) I was greeted by Brooke with her bridesmaids. Brooke is a bride I wish I could shoot every weekend. So sweet and caring; taking in each moment and appreciating it all. At one point while she had all the bridesmaids and mom buzzing around her getting her dress on, she stopped and said something to the effect of "
I'm just looking around the room, and seeing all of you here today from different places in my life is just really cool, I'm so glad you're all here today"
. Wow. How can you not enjoy being in the presence of a bride like that? And the day continued with these same little moments, accumulating to one awesome celebration.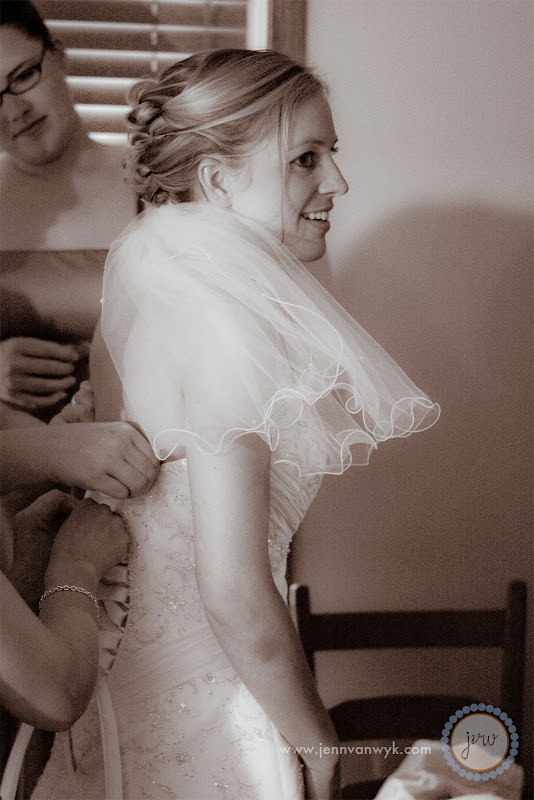 Brooke's dress had beautiful detailing, that was worth all of the bridesmaid's effort of threading and tying!
I always think that people's hands say a lot about how they are feeling. I grabbed this shot as Brooke was getting her dress on...
I am seriously digging these Gerber Daisy bouquets!
Might also help that they are my favorite flower :)
Funny story. So I did take pictures of the white shoes at this point as well... however I realized as Brooke was getting ready that her Sister (the Maid of Honor) put them on! Opps. Maybe I'm starting a new trend... forget the bride! Get the Maid of Honor's accessories! Haha. Brooke then handed me her shoes, a pair of white flip-flops. Love it!

The bride's niece... so adorable!



The wedding and reception was held at the house of a family friend, which has a gorgeous backyard. We headed back to take some wedding party pics as well as photos with family. After snapping a few of Brooke with her parents, her dad stops, and pulls out a comb! I love Brooke's face in this one!

These little cuties are the groom's niece and nephew.
Now I realize that I've talked a lot about Brooke and haven't even shown you Rob yet. Relax internet. I introduce you to Rob!
Every wedding I get a picture of the groom by himself. I often think moms and grandmas like this sort of thing, and heck if it's a good one, maybe even his new wife will want a copy. So I ask Rob if I can take a picture of him by himself, full expecting him to stiffen up, hold his hands inf front of him, and crack just a little smile on one side of his mouth (as most grooms do), and we'll painfully take a few shots. Nuh uh. Not with this guy. I got an array of poses. Honestly, I could barley keep up with the guy! And truely, I think if I wouldn't have stopped him he would of had more to show! Watch out GQ! :)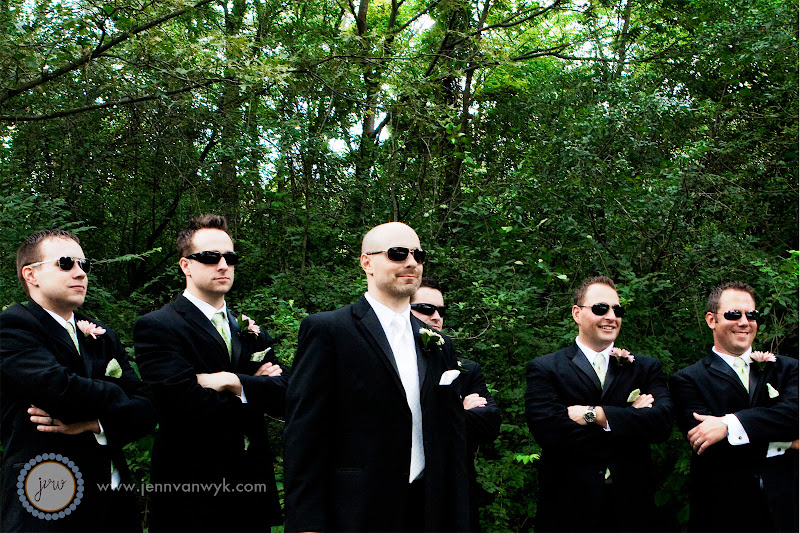 Onto some more with the ladies. Did I mention how much I loved these flowers?
Almost ready for the ceremony!
Here's one more little cutie to hold you over before the next post. And can we just have a moment of silence for the cuteness of this little guy, the sweet sunset lighting and the buttery bokah? . Thank you.
Up next, the ceremony and the reception!